I had an interesting shopping experience with Amazon during last year's Christmas season, and I'm finally getting around to blogging about it. I think my takeaway from this whole story is that even though I received a bad product, the fact that I was able to talk to someone at Amazon and get a refund made what could have been a really bad experience a forgivable one.
The last time Amazon impressed me with their customer service was with an unsolicited refund. This time, it was another refund, but with a different story. Don't worry, I don't ask for refunds on all of my Amazon purchases. I've purchased hundreds* of items from them over the years, and I've only asked for a refund once.
My mom wanted Badgley Mischka perfume for Christmas. I found it for a really good price on Amazon. In fact, the price was suspiciously good, about half the price of what department stores were selling it for. However, I didn't know much about perfume, so I figured it might be one of those items like jewelry or candy that has a huge markup. Another suspicious signal for the item was a review which called the product "fake."** Despite all of this, I placed the order since it was a "Ships from and sold by Amazon.com" item and figured I could always return it if it was bad.
When I got home for Christmas and opened the package, I wasn't confident that I'd be able to spot a good counterfeit, but fortunately some things stuck out right away.
The logo on top of the box was smeared.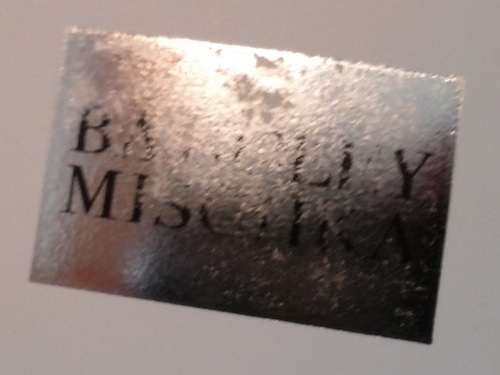 And the logo on one of the inner boxes was smudged as well.
This alone wouldn't have made me doubt the authenticity of the product (having nothing to compare it to), but considering this along with the price and review, things weren't looking good. The next test, of course was to smell it. My mom had given me a scented magazine ad for it, so I tried to remember what that smelled like for my test.
How do you test perfume? I couldn't spray it on myself, because if I went downstairs and smelled like perfume, my family would think I was weird. I think that some people spray it on their wrists as a test, but I wasn't sure how long the scent would last if I did that. I needed something that wasn't attached to me. So, I sprayed the carpet on my floor and smelled that. It didn't smell like the ad. At this point I was mad at myself for purchasing it from Amazon after seeing the warning signs. I took it to my sister for her analysis.
My sister didn't think that the perfume smelled bad, but she noted that the bottom of the bottle had a sticker instead of an engraving. She also found the disfigured logos suspicious. At this point, my fears were confirmed and I decided to return the product. Because it was too late to buy from somewhere else before Christmas, I wrapped up the Amazon version but told my mom what had happened. When she opened it, she noticed that the cream that also came in the box didn't have a scent, but when sold with perfume it's supposed to have the same fragrance.
I typed in Amazon's "Returns are easy!" URL and clicked on my order. There was no return option next to the perfume, but there was a link directing me to the return policy. There, I found a list of items that can't be returned, which includes fragrances. I went to the contact us section to ask for help, and used the option to have Amazon call me. A live person called within a minute.
I explained the situation to the representative. She kept asking me to describe what was wrong with the product, and it was hard to tell if she didn't believe me or was just trying to take good notes. I thought she would sound a little more surprised to hear that Amazon was selling something counterfeit, but she was still pleasant. I was caught a bit off-guard when she asked me what the perfume smelled like. How does one describe a scent of a perfume over the phone? I started off with "Well, I'm not an expert; it's for my mom…" but perhaps I should have described it as having a full body with a crisp finish.
After she was satisfied with my description, she said that I would receive a refund (I did) and that I could keep or throw away the perfume. I still wish I hadn't placed the order in the first place, but the refund was relatively painless and at least I got a good blog post out of it. If you're an Amazon employee reading this, feel free to look up my order history or email me if you want to investigate, especially since it looks like Amazon is now selling it directly again.
Fake on the left; real on the right.
*While doing some quick research to confirm this fact, I clicked on an old email from Amazon to see what I had ordered. It was What About Bob? on DVD. I had my parents rent that movie a lot when I was a kid.
**There are now a couple more reviews noting that it's fake.