Disclosure: I work for Google, which is developing self-driving cars.
I got invited to be beta tester of chffr, an app used by comma.ai to collect training data for self-driving cars.
It was easy to set up. I just had to set up an account, install the app and sign in the first time. Here's a screenshot from the first run: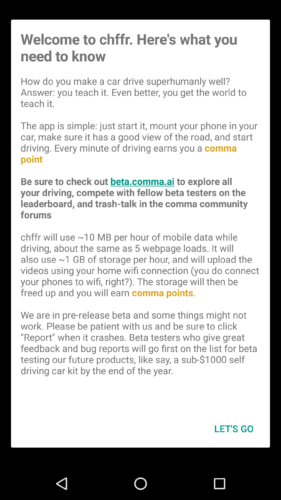 After setting it up, there's really no interaction with the app. It's very easy. To record a drive, you just launch the app. After a splash screen of the comma logo, the app automatically goes into logging mode. If you mount it on a dashboard and start driving, it starts logging. If you stop driving, it stops logging. The only instructions from George are to "capture such that you would feel comfortable driving the car from the footage." I didn't even see a menu for settings, though it's possible to enable cellular video uploads via a setting on the comma.ai forum, as accounts are managed by phpBB. I suppose the way to log out is to clear app data.
Here's the logging interface: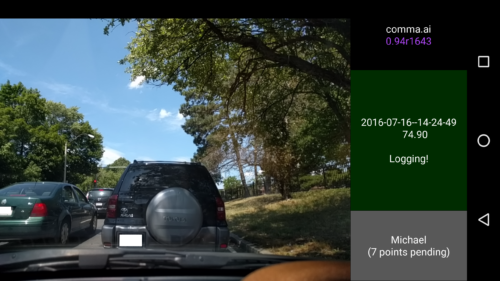 As you can see, there are points, offering a gamification aspect. The forum has a leaderboard where users can see who has earned the most comma points. After a couple of hours of driving, I earned 1012 points, though there are a lot of bonus points at the beginning.
You can view your own data via the driving explorer feature of the website, which shows what the camera captured, your location, your speed, and the time. You can't play back the drive in realtime, but you can scrub through it by dragging the slider.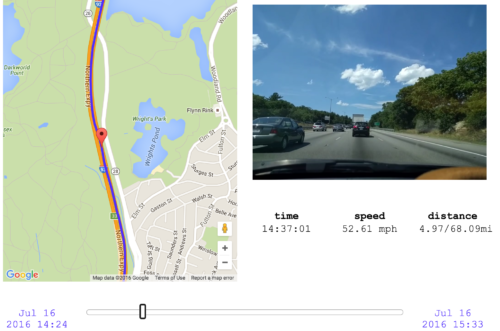 It was pretty rough on my battery, and I prefer to have a navigation app in the foreground when driving, so I'll pause testing for now. It's a neat idea for data collection, and I'm happy to see ongoing efforts by multiple organizations and individuals to develop self-driving cars.