I'm back from my 15-day holiday break. Here's some of what I did during this festive season:
Christmas in California
I usually don't do any Christmas-related things in California, but this year I checked out Christmas Tree Lane in Palo Alto. It was nice to get away from the land of office parks and apartment complexes and discover that yes, people actually do decorate for Christmas in this state.
We also had a couple of reindeer visit at work: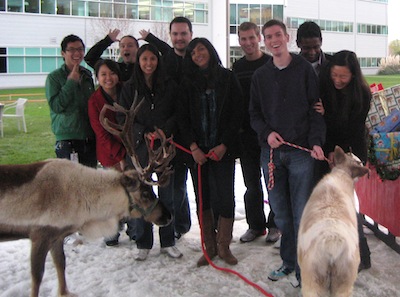 One of them was too busy eating Sophia alive to pose for a picture. And yes, that's snow on the ground. Don't worry, snowshoes were provided: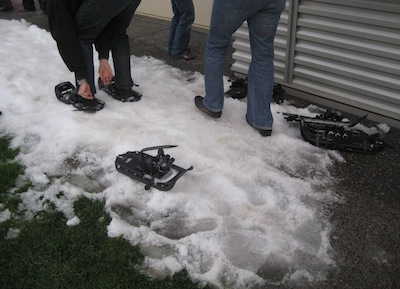 Last-minute flight change
I was originally scheduled to arrive in Philadelphia on the evening of Saturday, December 19th. On the 17th, my family warned me that a snowstorm was expected to hit on Saturday, and that I should probably change my flight to avoid the storm. Not wanting to take any risks, I changed my flight to the red eye on Friday night. This turned out to be a very good move.
White Christmas
The timing of my new flight was perfect, even though we had a delayed takeoff due to being overweight. It just started to snow as we got close to home from the airport, and we got to enjoy the rest of the snowfall relaxing inside. My original flight was diverted to Pittsburgh, which while in the same state, is not right next to Philadelphia. The next few days had very nice weather, with the fallen snow creating appropriate scenery for the season. Christmas Eve was an especially nice day, and while it rained on Christmas, there was still enough snow on the ground in the morning to make it a white Christmas.
Here's a shot from the 21st:
In 2008, I said that I wanted to get a better shot of my Charlie Brown Christmas tree. I finally got around to it this season: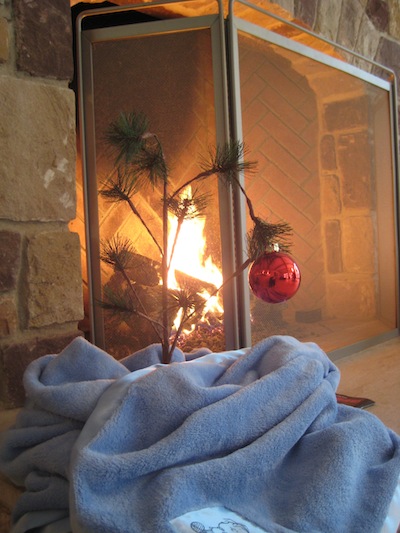 Note that it is now kept warm by both a fire and Linus's blanket.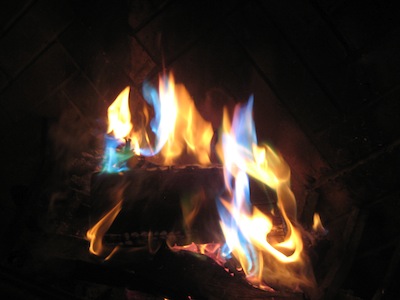 Speaking of fires.
I won't make a "stuff I got" list, but here's one gift I just have to show off: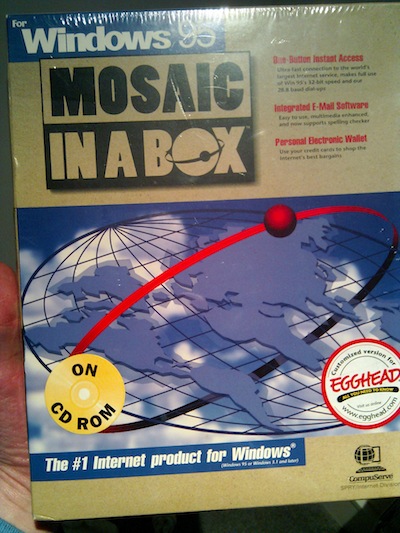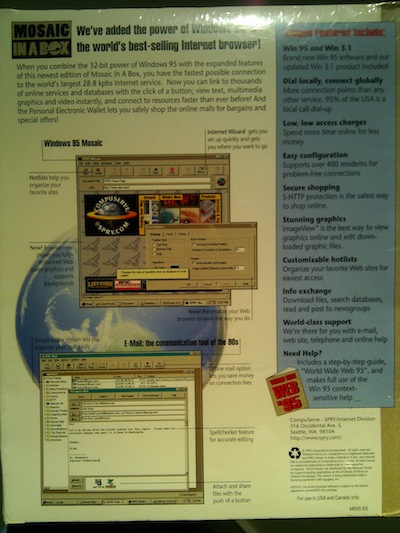 Yes, that's a shrink wrapped copy of Mosaic in a Box from Egghead Software. It was definitely the biggest surprise of this Christmas. Thanks, Brendan. Be sure to click on the images for the full resolution versions if you want to read about all the great features possible when you combine the 32-bit power of Windows 95 with the 28.8 kbps speed of CompuServe.
Speaking of technology, I was unable to convert either our window candles or tree lights to LEDs in 2009. The availability of good products is a bit lacking at this point, but we'll see what Christmas 2010 brings. On the bright side, I got a chance to take this cool picture of good old-fashioned burning filament in a window reflection:
Telluride
Two of my favorite places to go on vacation are New Hampshire and Telluride. Just after we ran out of snow at home, we hopped on a plane bound for more snow. First stop: Lincoln, Nebraska. Plenty of snow there. I think this was my first time in Lincoln. It looked nice.
And then the next flight was to Telluride, where I've even seen snow in the summer. Here's a look at the mountains as we flew in:
I've been skiing for almost 20 years now, and until this past trip, without a helmet. Back in March, I decided that I should finally get one, and a helmet is what I found under the tree on Christmas morning. I also got a ContourHD helmet camera. On our first day of skiing, I wasted no time in testing out both gifts, thanks to some completely unexpected airtime at the bottom of a hill. Here's a video of the test:
The helmet worked pretty well. I landed on my head and walked away with a scraped chin and forehead as well as a sore thumb. The camera did its job too. It kept rolling… even as it rolled down the hill after becoming detached from my helmet on impact. To get an idea of just how far I flew, watch and listen carefully after the camera stops tumbling. First, you'll hear my footsteps as I walk back to grab the camera. Then, once I have my camera, you can see how many more steps I have to take to get back to the point where my skis stopped. Even though the mount snapped apart during the fall, I was able to easily clip it right back into place. Unfortunately, while the camera is durable enough to handle a faceplant, it has trouble in the cold (a known issue). I was only able to record a few videos on the trip using that camera, which was disappointing, but VholdR will be repairing or replacing my camera before my next ski trip, so I have something to look forward to.
On New Year's Day when it warmed up a bit, I brought the camera out for our last afternoon run. The terrain itself is a bit bleh (I prefer something with a few more trees) and it was overcast, but it was fun just to see that the camera was in fact capable of recording longer videos, so I could get a full run without it being split into multiple segments. I got a bit nervous toward the end though, and stopped the camera a few times to make sure I didn't lose too much footage in case the switch froze up again.
Here's part one:
Part two:
Last bit to the base of the gondola:
And then back up the gondola for the last leg to Mountain Village, featuring the tip of my nose:
Even though I don't have many helmet-cam videos to share, I was able to capture some of the scenery with my trusty PowerShot: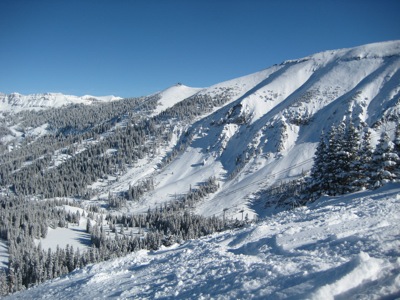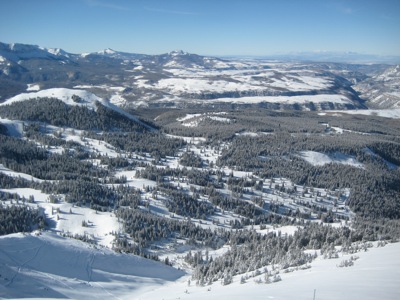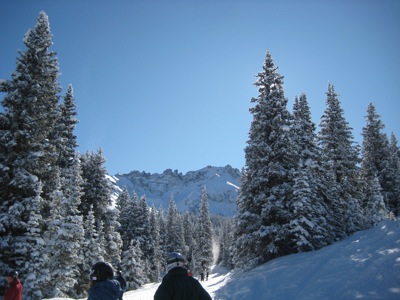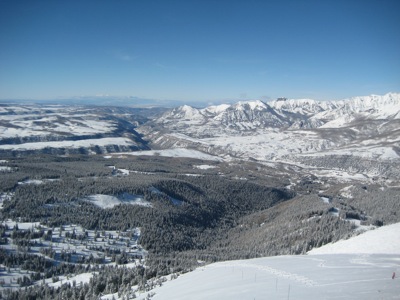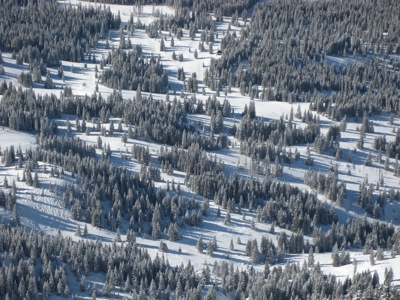 And I took a short video at the top of the Revelation bowl using my new Flip camera. If you pause the video at about five seconds in and look at the center mountain peak, you may recognize it as "the mountain on the Coors can," also known as Wilson Peak.
In addition to photos and videos, I also recorded a couple of GPS tracks using My Tracks for Android. You can check them out if you'd like: Revelation to Mountain Village, Afternoon Run. The straight segments are likely chairlift/gondola rides.
New Year's
To celebrate New Year's Eve in Telluride, they have a parade of skiers go down the mountain holding torches and then set off fireworks. It happens at about 6:30; so at midnight we watched the ball drop on TV just like everyone else, except on a delay. This is what it looks like: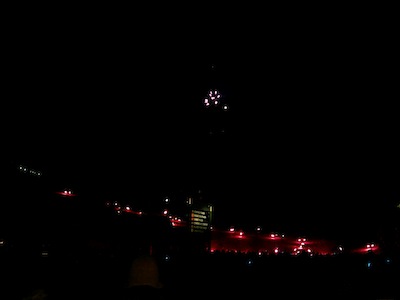 Airport confusion
I actually got confused in an airport on the way back to California. Do you know how hard it is to get confused in an airport, a place perhaps best characterized by its navigational signage? It's pretty difficult, but I did it at the Phoenix airport.
I arrived Terminal 4 (which I didn't know at the time) on a US Airways flight. I checked the status of my next flight, operated by United, on my phone and saw that it was leaving from a gate in Terminal 2. I looked around and saw signs for A, B, and C gates, which I assumed were for terminals A, B, and C. I figured that the website was just wrong, and that Terminal 2 probably meant Terminal B. I checked the appropriate gate number in the B section and didn't find my flight. In fact, I didn't see any United flights anywhere in the B gates. I headed to the end of the terminal, where the security line was, and saw signs for the A and C gates. I looked out the windows across to both A and C, and still didn't see any United planes sitting outside. I was really confused, and there was no indication that this whole area was actually known as "Terminal 4." I looked up my flight on both United's website and the airport's website, assuming they wouldn't reference the non-existant "Terminal 2," but, they both insisted that I should be looking for Terminal 2.
Finally, I asked one of the electric cart drivers where the United flights were. He said that they were in Terminal 2, and to get there, I had to go past security, then go outside and look for Door 22 to get on the inter-terminal bus. After getting over the initial shock that I would have to go through the whole security process again just to change terminals, I headed out in search of Door 22. What I found however were doors with numbers much lower than 22, but labeled with signs for an airport bus. I went outside, and there was no clear indication of where a bus would stop. So, I went back in and asked at an information desk. I couldn't believe I was actually asking for directions in an airport. They directed me upstairs (I was on the wrong level), where I was finally able to find Door 22 and the inter-terminal bus. After that things were pretty normal, only as if I had just arrived at the airport via a car, and not another flight. I don't know of any other airport in America where you have to exit the secure area, then go through security again while changing domestic flights, even if they're on different airlines in different terminals. It's a good thing I had rescheduled my flights to have a long enough layover, but thanks to the crazy terminal-changing shenanigans I didn't have time to get anything to eat.
Year-end summary
I'm not really sure the best way to pick highlights from 2009, but I'll tell you a few things that come to mind as I write this. In my personal life, I'm happy that I started biking on a somewhat regular basis. I hope to do even more of this in 2010. At work, I'm glad that the whole video thing caught on and that Mike and Beah were able to move back to the East Coast without leaving Google.
2010
2010 will be a big wedding year for me. And by big, I mean it will be the first year that I will attend multiple weddings. Two cousins got engaged in 2009, and I'll be attending their weddings in June and September. My "I'm busy being the camera guy" excuse is losing its effectiveness, so I should start practicing my dance moves now. 🙂
Other than that, I'm not too sure what the year will bring, but I'm looking forward to it.
Bonus
Try to guess which elements of this post were created by my new phone.